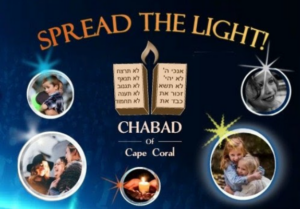 As the calendar year comes to a close, we would like to take a moment to thank you for your continued friendship and support. Simply put, we could not have done it without you!
It's been an exciting year at Chabad of Cape Coral! In the past twelve months, we expanded the reach of our existing programs and experienced tremendous growth. Our youth activities, Hebrew School of the Arts, Ckids Club, Cteen group, Chessed Circle, The Shul – Our Synagogue services, Adult Education, Women's Events, and our Shabbat and Holiday programming are growing and engaging Jews of all ages and backgrounds in myriad meaningful ways.
We can only continue to grow with your support. We are 100% privately funded from local donors like you, every dollar raised is spent here in our community!
Please consider contributing to our end-of year campaign and increasing your gift to the next level. Please take this moment and make a generous contribution here. Your donation is tax deductible, and will enable us to continue our vital community work. Thank You!