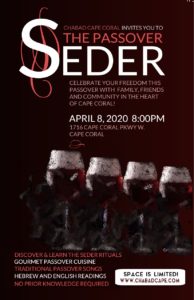 Chabad is working hard to continue to bring you that which you count on us for – Judaism and community, imbued with warmth and joy.
However, as always, the safety of our congregants is our number one priority. As such Chabad will not be hosting a communal seder this year.

Instead of a communal Seder this year, we will be offering Seder to go boxes which will include all items necessary to run a traditional Seder in addition to Seder meals.
Order Shmurah Matzah Click Here
To Sell Your Chametz Online Click Here